An unforgettable experience
Bika is not a traditional restaurant. What we offer is an immersive experience, which aims to highlight a lifestyle and cuisine that respect the environment, the land and the seasons.
I want to experience Bika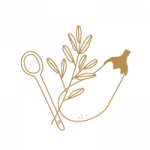 As you arrive at Bika, you will see the rows of our garden in the foreground. A member of our team will greet you upon arrival and introduce you to the varieties of vegetables and herbs that grow in the garden. You will then proceed to the greenhouse that houses our dining room where you will be seated. On the table, you'll notice plates from Ceramik B, napkins from Confetti Mill and cups from Makiko, local artisans who share our philosophy and contribute to Bika's charm.  
Chef Ercan likes to say that Bika is a farm and a kitchen. Indeed, our menu focuses on what we can harvest at the moment, what we have been able to preserve, and what is provided to us by other local organic or eco-responsible farms. We serve a single tasting menu, always inspired by Turkish cuisine. It emphasizes the value of local products and producers while respecting the principles of sustainability. 
During your meal, our kitchen team will be happy to tell you all about the current menu: its origins, its ingredients, and our inspiration in creating it.
We look forward to welcoming you!
We really miss organizing cooking workshops, which we've unfortunately been forced to stop since the beginning of the pandemic. We hope to see you again this fall and winter around our kitchen island. We will notify you of new dates for the workshops as soon as possible.
We are a small team and it is very difficult for us to answer the phone. The best way to reach us is by email.
---
980 Chemin du Grand Bernier
Saint-Blaise-sur-Richelieu
Québec, J0J 1W0