An unforgettable experience
Bika is not a traditional restaurant. What we offer is an immersive experience, which aims to highlight a lifestyle and cuisine that respect the environment, the land and the seasons.
I want to experience Bika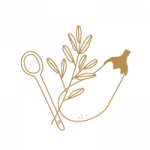 As you arrive at Bika, you will see the rows of our garden in the foreground. A member of our team will greet you upon arrival and introduce you to the varieties of vegetables and herbs that grow in the garden. You will then proceed to the greenhouse that houses our dining room where you will be seated. On the table, you'll notice plates from Ceramik B, napkins from Confetti Mill and cups from Makiko, local artisans who share our philosophy and contribute to Bika's charm.  
Chef Ercan likes to say that Bika is a farm and a kitchen. Indeed, our menu focuses on what we can harvest at the moment, what we have been able to preserve, and what is provided to us by other local organic or eco-responsible farms. We serve a single tasting menu, always inspired by Turkish cuisine. It emphasizes the value of local products and producers while respecting the principles of sustainability. 
During your meal, our kitchen team will be happy to tell you all about the current menu: its origins, its ingredients, and our inspiration in creating it.
We look forward to welcoming you!
Many of you ask me to prepare cooking workshops to cook the recipes in my Racines book. I have therefore prepared 6 workshops for the month of October.
During these workshops, we will cook Turkish cuisine recipes highlighting local and seasonal ingredients. I will also share some tips for producing as little waste as possible in the kitchen and how to preserve for the winter.
Depending on availability, we will take a walk and pick in the garden before heading to the kitchen to prepare the ingredients and cook them. At the end of the workshop, we will all sit together around the table and share the meal we have prepared.
Bring your own wine if you want to drink it.
Contact us by email if:
* You are a group of 12 and wish to organize a private workshop.
I would like to participate to a workshopE